Published on April 20, 2023
Get coworking: the benefits of shared workspaces
GETTING STARTED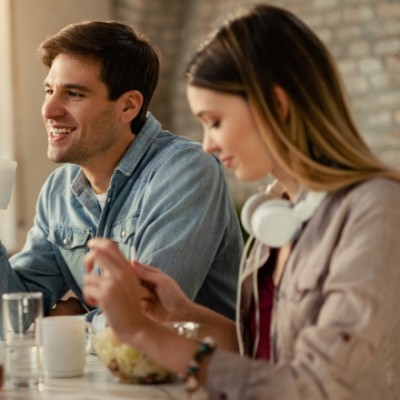 If you're a freelancer, remote worker, or startup, you may have heard about the concept of coworking. This is a relatively new type of shared workspace that offers an array of benefits for those looking to get out of the traditional office setting and who can't get things done in a home office. Let's take a closer look at why coworking is such an attractive option for many people.
Affordable and Flexible
Of course, there are a number of challenges that come with office setup and management. From finding the ideal workspace to ensuring everyone is connected and can collaborate properly, there's no shortage of tasks to tackle. Not to mention, you need to stay on top of all your tech needs when it comes to security, hardware, and IT. And don't forget about the costs associated with setting up and running an office. All of this can be incredibly daunting, but it doesn't have to be. Coworking spaces are incredibly affordable. They are designed to be flexible and accessible to those who need them. So, whether you need an office space for a few days or months, there will usually be something available that fits your budget and needs.
Plus, with all the amenities provided in most coworking spaces (such as printers, meeting rooms, and other office equipment), you don't have to worry about buying or renting these items separately – saving you even more money!
With Spacebar Coworking Spaces, you can create a work environment that everyone loves - and that will help your business succeed.
Social and Collaborative Environment
Creating a social and collaborative environment in the workplace is beneficial to everyone. It encourages communication, collaboration, and problem-solving, which can lead to more creative solutions for projects. Additionally, it boosts morale and helps foster relationships between workers who may have different backgrounds or perspectives. This can help with team building and ensure everyone feels comfortable in the workplace. Building a strong community of coworkers can also lead to increased productivity, as the team is working together towards the same goal. Furthermore, having a social and collaborative environment at the office can help make your team feel more relaxed in their workspace. This can lead to a happier, healthier workforce that is better able to focus on their tasks. With the right environment, teams can work together to achieve great things.
Coworking spaces are designed to foster collaboration between members. This makes it easy to network with other professionals who may share similar interests or goals. Plus, the social aspect of coworking environments can help reduce stress levels and increase productivity by providing a place where people can come together and work on projects in an informal yet professional atmosphere. It also encourages camaraderie among coworkers since everyone is sharing the same space!
Increased Productivity
Productivity in the office has a huge effect on business success. By taking steps to increase productivity, businesses can maximize their efficiency and get more done. Improving workflow, streamlining processes, and utilizing technology are just some of the ways that businesses can increase productivity in the office.
Additionally, creating an atmosphere of collaboration, communication, and positive reinforcement can help to motivate your team and drive productivity. It's important to remember that a productive office isn't just about putting in more hours or working harder; it's also about maximizing efficiency and utilizing the resources available to get work done quickly and effectively.
Coworking spaces provide a great opportunity for increased productivity because they often offer amenities such as free wifi access and comfortable seating areas. This means that you can stay productive throughout your day without having to worry about distractions like loud music or annoying co-workers in an open office environment. Plus, since most coworking spaces have plenty of natural light, fresh air circulation systems, and ergonomic desks/chairs – it's easier than ever before to stay focused on your tasks without feeling exhausted after hours spent sitting at your desk!
In summary, coworking spaces offer a unique opportunity for businesses to increase productivity and create a more collaborative environment. By providing amenities such as free wifi access and comfortable seating areas, coworkers can stay productive throughout their day without having to worry about distractions or uncomfortable working conditions. Additionally, the social aspect of coworking environments encourages camaraderie among coworkers while also helping to reduce stress levels in an informal yet professional atmosphere. With all these benefits combined, it's no wonder why so many people are choosing coworking as their preferred office setting. Whether you're looking for increased collaboration between team members or just need some extra space away from your home office – there is something here for everyone! So what are you waiting for? Start taking advantage of this amazing workspace solution today!