Our Spaces
We present the spaces we have for you and your team. Designed to maximize your productivity in a comfortable, versatile and functional environment.
Amenities
Extend the dimensions of your work area to all common areas of the space bar. Combine spaces throughout your day and become a productivity machine.
Meeting Rooms
Armchairs, terraces, rooms and multiple formats to make your meetings comfortable and efficient.
Green Space
Take a break and get a breath of fresh air. Enjoy working outside on a sunny day. Our garden will increase your mental freshness.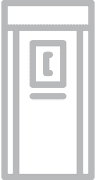 Privacy Booths
Privacy booths for one or two person video calls. No distractions or noise.
Living Space
Living rooms, terraces, armchairs, cafeteria tables and many versatile spaces to collaborate, produce and accomplish your goals.
Shuttle
Free transportation to and from the parking lot throughout the day. Transfer of your guests and tours to the airport.
Scooters
Scooters are available for nearby express transfers from Spacebar, at no cost and with no limit of use.
Lockers
Lockers to leave your belongings with peace of mind, even when you are not at Spacebar.
Concierge
Front Desk services such as correspondence, room reservations, transportation requests, guest support and so on.
Frequently Asked Questions
These are the most frequent questions and answers we encounter when serving new prospects. We hope we can solve your doubts. If you do not find the answer to your question, do not hesitate to contact us and we will gladly help you.
Our Blog
Tips, trends and content that will help you improve your productivity and grow your business.